Since 1971, with incredible donor support, the Children's Hospital Foundation of Manitoba has raised more than $150 million to help sick and injured children from Manitoba, Northwestern Ontario, and Nunavut. The Foundation is dedicated to ensuring that every child treated at HSC Children's Hospital has the best care experience possible – and that's where the Better Futures Campaign comes in.

Last week, the Children's Hospital Foundation of Manitoba held a celebratory event at True North Square to thank current donors and encourage the community to join in transforming child health care and research in Manitoba. We were treated to stories from inspiring Champion Children like Keira, age 11, and Pacey, age 8, as well as beautiful music from a school orchestra and Ojibway singers, as well as Long Plan First Nation's Spirit Horse Drumming Group.
The Better Futures campaign has an historic goal to raise $75 million over five years for HSC Children's Hospital – the only children's hospital serving sick and injured children from Manitoba, Northwestern Ontario, and Nunavut – and Children's Hospital Research Institute of Manitoba (CHRIM).
The hospital sees more than 130,000 kids annually, with 40 per cent of those children coming from outside the city of Winnipeg. Many  have extended stays, or go back and forth to the hospital numerous times for care, and their first experience is often in the Children's Emergency Department. This is the next major area of redevelopment in the campaign.
"Manitobans are incredibly generous when they know there is a need. We have seen this firsthand with donors supporting the new Travis Price Children's Heart Centre and the new Child & Adolescent Mental Health outdoor play space, both part of the $75 M Better Futures campaign, and funded almost entirely while donors had the added pressures of COVID-19 to manage," says Stefano Grande, President & CEO, Children's Hospital Foundation of Manitoba. "Now, we are inviting the whole community to make a difference for the thousands of kids who urgently need safe, culturally sensitive hospital care each year."
This campaign is the largest donor-driven fundraising campaign in the history of the Foundation, hospital and research institute. Incredibly, despite the health and financial challenges of the pandemic, donors — including many kids who have used the hospital — have already raised more than 70 per cent of the fundraising goal since the campaign quietly began pre-pandemic in 2019. Children's Hospital Foundation of Manitoba now asks the public to rally together to raise the remaining 30 percent of funds needed to #GiveBetterFutures to kids like Pacey.
"Pacey has already needed more than 30 surgeries for intestinal failure. In 2020, he was in hospital for both Christmas and his birthday. We've had to come through the emergency department many times and have gotten to know both the caring emergency and surgical teams very well," says Kim Wall, Pacey's mom. "Until you have a child in hospital for as long as Pacey has been you just can't truly understand what it's like… but I can tell you it is unbearably hard on him, his sisters and us as parents. And we are so thankful that the children's hospital has been there for us, every time we needed."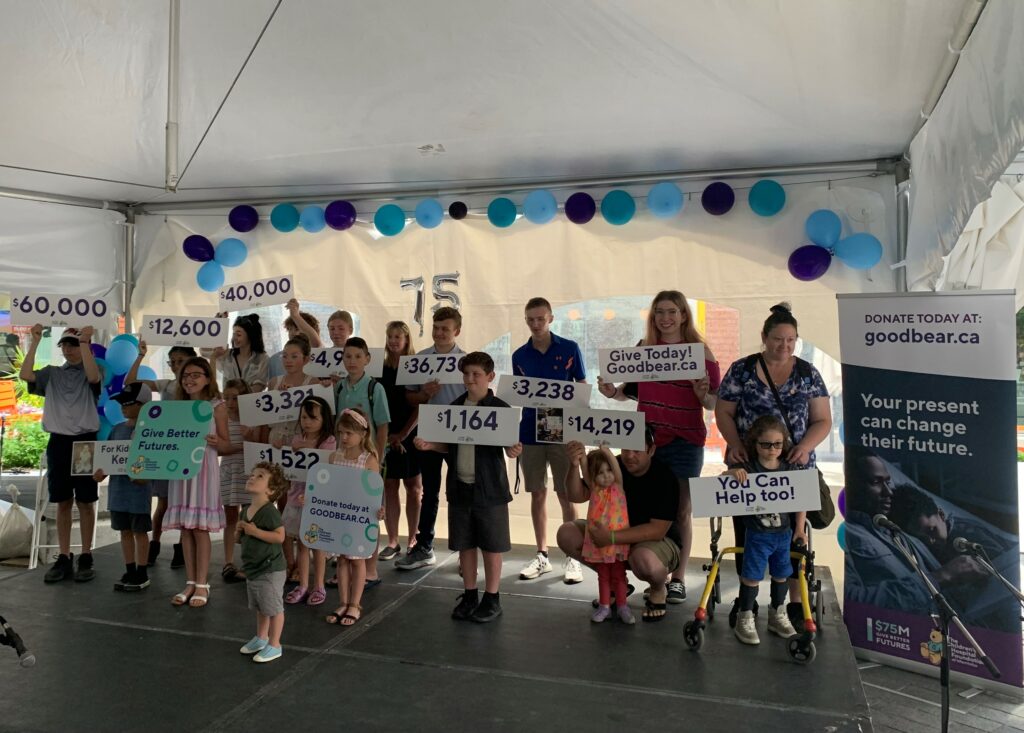 Pacey and his sisters are among a group of 20 children that stepped on stage at the public event to share what they have raised themselves in support of child health care and research. They represent even more children and families who have coordinated their own fundraising in support of Children's Hospital Foundation of Manitoba to ensure every child gets the best care possible.
"We are so grateful to these superhero kids and their families, who after their time in hospital and sometimes even during, made an effort to help other kids who will need the hospital," says Grande.  "We know if these kids can make that kind of effort – from donating their allowance, or selling a craft, or coordinating a small fundraising event – then surely everyone in Manitoba can! In fact, if every Manitoban gave just one dollar today at goodbear.ca, you could give better futures to all kids in Manitoba."
The $75 M in funding will transform children's health care and research by focusing on improvements in three areas:
Critical infrastructure and facilities: $45 million
Children's Heart Centre, catheterization lab, fluoroscopy unit (funded)
Remote monitored beds and infrastructure (funded)
Revitalized Emergency Department (partially funded)
Expanded Pediatric Day Surgery Program (partially funded)
Nephrology Clinic and Dialysis Unit
Leading-edge pediatric research: $25 million
Ease of breathing (asthma and allergies)
Diabetes
Comparable standards and access to Emergency care
Neurodevelopment and rehabilitation
Mental health
New themes to be announced
Innovative programs: $5 million
Child life: Music therapy, CHTV, playroom, library, READ program
Indigenous Community Healing Space (partially funded)
Child & Adolescent Mental Health indoor/outdoor play spaces (partially funded)
"As the only hospital in Manitoba with specialized, acute pediatric services, and the largest child-focused health research centre on the prairies, nearly every family in the province is touched by the excellence in care, education, and research at HSC Children's and CHRIM," says Kirsten McConnell, Campaign Co-chair. "As moms, we know how important this is for all families and are so proud to support Better Futures."
"We hope people will be proud of and inspired by the accomplishments to date with the new state-of-the-art heart centre and thoughtful outdoor play space in the Mental Health unit for kids, and will support further enhancements to child health in Manitoba," says Nancy Cipryk, Campaign Co-chair. "I'm putting the ask out to Manitoba businesses and to all individuals across the province…let's make it Manitoba's passion project this year to increase quality of life for all infants, children and youth by enhancing child health care and research now and into the future."
All Manitobans are asked to please #GiveBetterFutures today at goodbear.ca.
Annual statistics
HSC Children's
150+ beds
4,700+ surgeries
9,200+ admissions
37,000+ diagnostic procedures
50,000+ emergency visits
80,000+ clinic visits
45% of kids live outside of Winnipeg
Up to 60% of kids are from Indigenous communities
CHRIM
300+ researchers
15+ research areas of focus
$22+ million annual funding awards
3,500+ families enrolled in research studies
77+ studies in the Research Support Unit (RSU)
64,000 sq ft dedicated research space